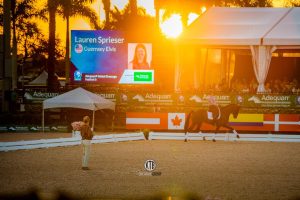 Four years ago last month, Facebook reminded me, was Elvis' debut into the American dressage world: We'd been selected to ride in a master class with the legendary Isabell Werth. He went in the ring second in a long list of fabulous horses, following a fantastic youngster from Helgstrand, and succeeded by more experienced horses with bigger gaits.
That night, we demonstrated the correctness of his development, his confidence in a big environment and his terrific heart, in that I could put into him the power and expression—still in small doses as he was not yet 8—that I'd felt the day I met him. We demonstrated that day that there was more to Elvis, a little brown horse of common breeding, than met the eye.
Read the rest at The Chronicle of the Horse!