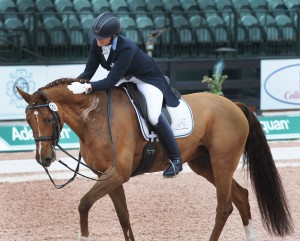 She was 5 but green broke, still owned by her breeder. I was 21, a veteran of the Young Rider and U25 programs, and as such I thought I knew a few things about horse training. I was wrong, as young people filled with hubris are often are. But I couldn't have asked for a better teacher than Ellegria.
"Ella's" real name was, tragically, Elly McBeal, which clearly had to go. She was a Westphalian of great old German breeding (Ehrentanz I—Patrizia, Philipo) and one of three Grand Prix horses her mother produced, with a coat like a copper penny, and a tanky body that belied her 16.1 hands. She had an extended trot that would knock your socks off, a gift for passage and a 10 extended walk.
Read the rest at The Chronicle of the Horse!