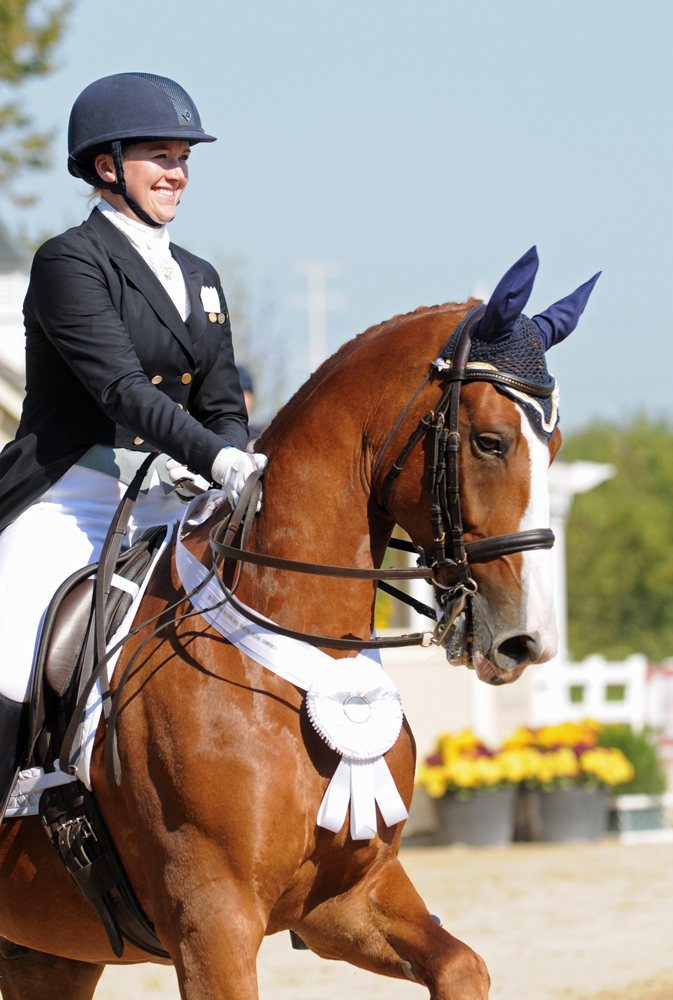 Lauren Sprieser's international dressage career began with a bicycle.
A family bike ride led to the discovery of a nearby stable, offering beginner riding lessons in the sport of dressage. Lauren's mother, Judy, signed the pair up for lessons. Little did they know that less than 8 years later, Lauren would be representing her country for the first time in international competition.
Lauren's Training…
A student of Lendon Gray in college, Lauren competed three times at the North American Young Rider Championships, earning Team Bronze in 2003, and Team Gold in 2005, placing as high as fifth individually. She was also successful in the U25 ranks, qualifying three horses for the National Championships, including one made completely from scratch, all before her 25th birthday.
With a semester while in college spent working for 3 time Olympic Gold Medalist Monica Theodorescu and her Olympian father Georg, Lauren knew horses were more than just her passion – they were to be her career. Upon graduating from Sarah Lawrence College with studies in Public Policy and Urban Planning, Lauren spent a year as a working student for several exceptional trainers, including Olympic Bronze Medalist Carol Lavell, before setting up her own business in Marshall, Virginia in the fall of 2007.
Lauren quickly established herself as a top trainer of riders from green to Grand Prix across several disciplines, with students ranging from local walk-trot champions to CDI Grand Prix. But she also has become well-known for producing FEI horses, as well as helping her students to make their own.
Lauren and her students have produced 7 Grand Prix horses and 16 Prix St. Georges horses, as well as 19 USDF Bronze, 14 Silver and 2 Gold Medalists.
After a few difficult years of rebuilding, the future is bright for Team Sprieser. Aboard The Elvis Syndicate's Guernsey Elvis, Lauren has made a successful CDI Small Tour debut, and Elvis is learning all the Grand Prix work with aplomb. He'll compete at Grand Prix in 2021. Her own Gretzky RV looks to an FEI debut in 2021 as well. Lauren also campaigns Judy Sprieser's Helio at FEI, and Terrina Baker's De Angelicus MTF to competition success.
In addition to riding and training, Lauren has become a popular social media figure. She is an extremely popular blogger for national equestrian magazine The Chronicle Of The Horse, and writes regularly for magazines like Dressage Today and Practical Horseman. She also has an avid following on Facebook and Twitter, and is particularly gifted at promoting her sponsors in creative ways, through marketing campaigns both online and at her Virginia farm.
Ambitious, talented and gregarious, Lauren Sprieser is one to watch.