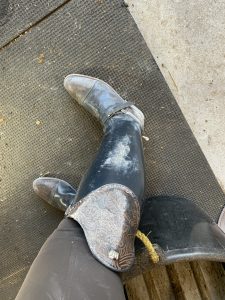 On Tuesday, after watching the numbers rise, after seeing the growing numbers of states restrict movement, and after listening to recommendations from the CDC and other medical experts, I felt I had no choice but to close my barns in Florida and Virginia to all but critical staff in order to do our part to flatten the curve and reduce the risk of spreading the coronavirus. Almost all of my clients were incredibly gracious and supportive. But I know that many of my trainer friends have experienced clients who are not so understanding.
It wasn't a decision I took lightly. I hated thinking about their lost rides, about the time and the money they'd invested to come to Florida. But at the end of the day, the case to close was so much more compelling than that to stay open. The risk of illness to them, the risk of illness to my staff and me, the best interests for the caretaking of the horses.
And so there was no one at the farm besides my two working students when a horse I was riding slipped, went down and landed on me.
Read the rest at The Chronicle of the Horse!