Hi Sprieser Sporthorse family. We had this grand plan to lay out some long-planned staff changes in a tranquil way once we were close to getting back from FL, and then the coronavirus reared its spiky little head, forcing our hand much earlier than planned. So I'm going to jankily tell you all about some changes to our team that will be happening over the next few weeks.
First, a quick scheduling announcement: I don't think it shocks anyone that I'm going to cancel my trip home to teach you all this weekend. I have a feeling that the government and/or the airline is going to force my hand on this anyway, but I don't think it's in anyone's best interest for me to get on a plane. So instead, I'm sending Jess home from FL early – she'll arrive on Friday, March 27. All lessons currently scheduled can stay scheduled, they'll just be with her instead. Lessons with Jess are still $45, until 5/1. (Just as a note, in case you've missed it the other gajillion times I've mentioned it – I go up to $100 for trailer-ins and $85 for boarders, and Jess goes up to $55 for trailer-ins and $50 for boarders, all on 5/1.)
Which leads me to some news. I am so terribly sad to be bidding adieu, after years of friendship and teamwork, to my dear friend, Lauren Fisher. Lauren's boyfriend, Kyle, has been transferred to a position in Fort Worth, and Lauren will be leaving us to join him. We'd originally planned for her departure to be around our return from FL, but with Jess heading home early, Lauren will also be leaving early. Her last day will be Sunday, March 29. Lauren, I am so incredibly grateful for your time with us, and I wish you nothing but the absolute best in your new adventure.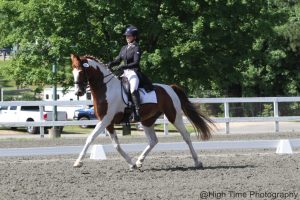 Joining us in early May will be a familiar face to some of you: Karrigan Norris, who worked for us for one winter in Florida as a working student, has since completed her college career, and has been teaching and riding freelance. Karrigan is a delight, as well as an extremely accomplished rider and trainer: Karrigan has brought her rescue Saddlebred-pinto-who-knows-what gelding, Phoenix, from unbacked to Intermediate I. Jess and I are beyond delighted to welcome her to the family. Karrigan's lessons will be $45 to trailer-ins and $40 for boarders.
We are also sad to be saying goodbye to working student Anna, as she heads home to begin college. With COVID-19, we're saying farewell earlier than planned, but we're very excited to welcome new working student Max to the family. The Florida crowd is also saying farewell to working student Caitlin, who really rescued us by filling a sudden vacancy in December, and we'll be joined by new working student Emma at the end of May. Anna and Caitlin, it has been an absolute pleasure knowing you, and we all wish you the best of luck in what comes next for you!
If you're following along with a calendar (and possibly an abacus), you'll notice we'll be down a working student for a few weeks, between our return from Florida in mid-April and Emma's joining us at the end of May. We appreciate your patience during this time!
Jess, Rachel, Emily – who's officially our Assistant Barn Manager – and I are very excited for our new team members to join us, as well as for the COVID-19 virus to leave us, so we can start getting back to some normalcy. We're also terribly grateful for some pinch-hitting by Brittany, who has been helping us over the winter, and who will continue to do so until we're all hands on deck.
But we're mostly grateful to all of you, for your patience as we sort out the comings and goings, new faces, and global chaos of this trying time. Your horse's care and safety is paramount to us all, as ever, and with new challenges to the global landscape, we're so thankful that you all are so understanding and graceful about rolling with change. If I can answer any questions, please let me know!
Lauren