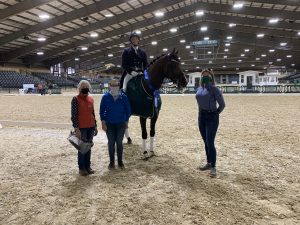 With COVID cases on the rise nationwide, and out of an abundance of caution and love for our barn family, we're requiring face coverings be worn any time our staff and clients are indoors, and/or have a possibility of being within 6' of another person. For the purposes of clarity, we consider "indoors" to be anywhere climate controlled – the tack room, the pantry, etc.
We will continue to request that riders who aren't feeling well stay home, that our students leave friends and family guests at home when they come for lessons, and that our trailer-in students limit their traffic through the barn, coming directly from the parking lot to the arena for their lessons. All of these policies have been effortlessly executed since March, and we appreciate everyone's compliance.
Riders will not be required to wear masks while mounted, and we are so fortunate as to be able to do much of our work in a space with great airflow, so we have every belief that we can operate at our normal level in a safe and healthy way.
But we take the health of our clients and staff seriously, and while we recognize the inconvenience, we are grateful for your understanding. See you all soon!