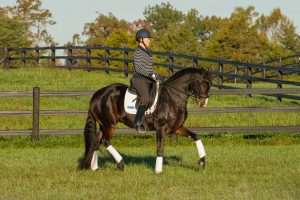 With the 2020 show season officially in my rearview, it's time to maximize the next few months before we head to Florida. We are still heading to Florida, even with the world's many unknowns, because while showing is lovely and fun, my team and I really go down to train in the nice weather and to be close to my coach, so I can get more help with my herd. If we actually get to show, then great. But the training is the key.
Fortunately, all three of the 9-year-olds in my life are in a place where the training is really important right now. For Gretzky, aka Puck, he's ready for his Prix St. Georges debut, and for Elvis, he's pretty darn close to having the passage, piaffe and transitions between them that could take us down centerline at Intermediaire II. That means my time is being spent making them both a lot stronger for collection.
This is where it's nice to be at home, specifically my home. My farm sits on 135 acres of rolling hills, and this year we've had a perfect autumn with the right amount of rain to make the ground fantastic. So I'm working out of the ring at least two days a week. For Puck, canter pirouettes on a hillside are giving him a lot of balance and a lot of coordination, and for Elvis, piaffe down a hill is helping with engagement. Any hill work is fatiguing, of course, so I'm careful about watching the amount of time that we spend working, and I give lots of breaks to help keep injury at bay. But it's been extremely helpful already.
Read the rest at The Chronicle of the Horse!