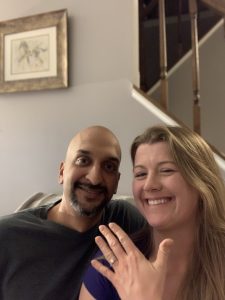 A little more than four years ago, I matched on a dating app with a funny Indian engineer with a big nose, holding a bottle of Zima—the disgusting Sprite-and-rubbing-alcohol-esque garbage that teenagers got drunk on in the 90s—in his profile picture. Our first date was at a local pizza place, and I left thinking that he was nice, well-adjusted and responsible, and more than a little afraid of me—in other words, absolutely not my type. But he wanted to see me again and take me to a REALLY nice restaurant in town, and I figured hey, dinner there is NEVER a bad idea.
His name is Ravi, and as of last week, he's my fiancé.
Read the rest at The Chronicle of the Horse!