I didn't know Jimmy Wofford long, nor did I know him well. But from our first meeting he dazzled me with his tremendous respect for the horse and for horsemen. He treated me, a nobody dressage trainer from Nowhereland, like a peer. He was quick to help, and earnest in his passion for helping horses be their best. And he was so tremendously proud of his charges.
We'd met a few times before I reached out to him two years ago to talk fitness with Elvis, a horse who'd always felt to me like he would muscularly burn out. Jimmy took time out of his busy life to take me through a conditioning program, and then again through his thoughts on downtime, that changed our lives, and allowed Elvis to become a Grand Prix horse.
I kept Jimmy updated on Elvis's adventures, and we playfully called him "his dressage horse." He always had a kind word (even about a sport he claimed to not understand), and I'm so sad they never got to meet.
He was a joyous person, respectful and brilliant, and yet always with a twinkle in his eye. One of our last interactions was this one, after I'd bitten it off a young horse I had in training with a friend who runs out of Fox Covert, the Wofford family farm: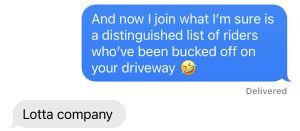 I hope Jimmy's friends and family find comfort and peace. May we all live a life so highly regarded, and be so universally loved.