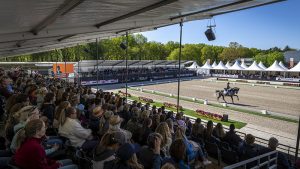 At January's U.S. Equestrian Federation Annual Meeting, participants talked extensively about "social license to operate." The phrase refers to how the world views something, and whether people consider it acceptable in modern society. Google tells me the term originally developed in reference to extraction of natural resources—mining, an industry that is certainly plagued with environmental and human rights problems, and drilling for fossil fuels, for example.
But for sure it's on our doorstep in the horse industry. And as I read the Chronicle's coverage of the USEF meeting, I read this quote: "We might think racing and dressage are light years apart, but to most of the general public it's horse sport," according to equine behaviorist Dr. Camie Heleski. "For them there's no difference between an FEI-regulated sport and a non-FEI-regulated sport.
And the killer: "The public prioritizes emotion over evidence."
Read the rest at The Chronicle of the Horse!