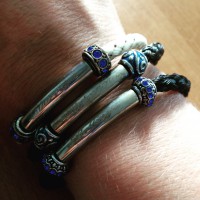 I have a coat bag – in my farm colors, brown and blue – that I've been schlepping around with me for more than a decade. It had to be a custom order, because I'm so tall that standard size bags scrunch my tails up at the bottom. And over the years, I've collected a few things that I carry with me to shows. I'm not a superstitious person, but they're little mementos that help me remember what's important, and think of a few old friends.
– tail hair bracelets from a few special horses. Whether they've moved on from me or just moved on, I have a collection of bracelets from Pony Locks that come with me. Bellinger, Clairvoya, Victorious, Stratocaster, Ellegria and Danny Ocean are all represented, and I like to think that they come with me (and, for a few of them, heckle me) down the centerline.
– a buckeye. One of my dearest former students gave me a buckeye nut from a tree in her family's back yard. It's supposed to bring luck; I like it because it reminds me of a fun kid, and the times we shared.
– a stock tie pin made by another former student. Sometimes I wear it, and sometimes it just travels with me, but it's incredibly beautiful, an oversized pin with a collection of blue beads, and it also reminds me of how long I've been doing this, because the maker was one of my first students.
– a rubber duck. A friend of mine gave me the duck at my last NAYRC (2005!); she called it my lucky duck, which it may be, but it also makes me think of days gone by, and how far I've come.
– a little elephant figurine. The elephant itself is meaningless, but it was inside a bag of things that were given to me after my amazing student and friend Beverley Thomas' passing last year, and carrying it is like carrying a little talisman from her.
There's also an assortment of safety pins, mascara, sunscreen and a sewing kit in case of disasters, plus at least three emergency pairs of semi-retired Roeckl white gloves. But they're not as poetic as the keepsakes!