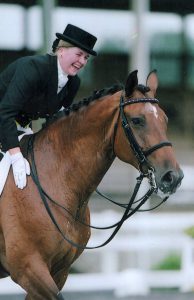 So you came in eighth or 12th or 24th. You made mistakes, or you got in the ring and panicked, or you got cocky or you just got straight up outhorsed. Or maybe you didn't score high enough in qualifying to get named to a team. Maybe your horse got hurt or sick or the money to travel across the country was too great. Maybe you don't even have access to a horse to teach you that level of work at all.
You are one lucky duck.
Statistically speaking, the winners of Young Riders aren't the ones we see in senior competition down the road. To wit: Ali Brock and Courtney King Dye placed in the 20s. Adrienne Lyle placed 12th one year. (I remember; I was 11th, and it was nice to stand next to someone tall.) And neither Kasey Perry-Glass nor Laura Graves went to the NAYRC, as it was known when they were of age, at all.
Read the rest at The Chronicle of the Horse!