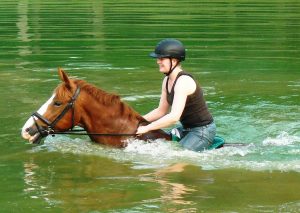 There have been so many. A working student's horse on whom I made it about 20 feet. A homebred 3-year-old on whom I made it half a 20-meter circle. The time my OTTB dropped me into a wall, and I broke my collarbone (though I got back on AND went to school for a few days before seeing a doctor. Ain't nobody got time for that.) My Young Riders horse, L'Etoile, put me in the dirt recreationally, at least three times in our two-year partnership. Danny's a repeat offender as well, and once I bit it off Midge while swimming in the pond, learning a valuable lesson that falling off IN the pond is painless, but falling off on the BANK of the pond gets you three days of Vicodin.
But there was That One Time.
Every trainer I know has That One Time, at least one, sometimes more. A fall that really rattled. For some of my friends, That One Time resulted in a big hairy injury. But I know lots more, and I fall into this category, where That One was more about a reminder of our own mortality.
Read the rest at The Chronicle of the Horse!