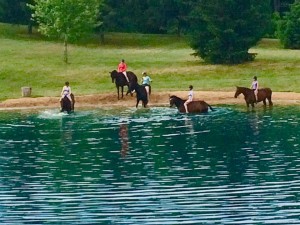 At the end of the day, dressage competition is done in a 20×60 arena, with perfectly manicured footing, and as such that's where we spend a fair amount of our training time. But staying within the confines of the Little White Box is a great way to make a rider crazy, and forget what it does to the horse, a creature evolved from wandering grazers, although admittedly every time one of my fancy Dutch things goes catapulting through the air because he's spotted a leaf or a bird, I am reminded of how much smart the domestication process has apparently taken out.
Terrifying birds and leaves aside, cross training is, in my opinion, crucial for the proper development of the dressage horse, not to mention a welcome breath of fresh air in a training process that, even done by the best, is inevitably full of periods of tedious repetition. And I am so lucky as to work out of 135 acres of gorgeous Virginia countryside that allows my horses, my students and I to play with lots of fun options. Here are some of the things we do to think outside the box.
Read the rest at The Chronicle of the Horse!