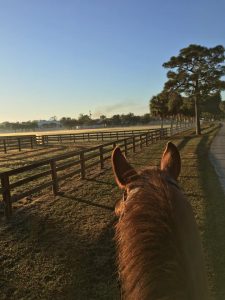 December 1: It's official! Nine horses will be going to Florida, to a brand-new barn that we'll have all to ourselves. Awesome. I'll bring down one working student—conveniently also named Lauren—and hire someone local to do stalls for us. It'll be a lot of work, but it'll be OK.
December 5: Well, now there are only seven stalls available. Thankfully, a farm just down the road has two available, so while it's a bummer to have horses in two places, we'll make it work.
December 10: Just kidding, it's now 10 horses. Whatever, we'll make it work.
December 20: Um, now it's 11 horses. Way too much for one working student. PANIC.
Read the rest at The Chronicle of the Horse!