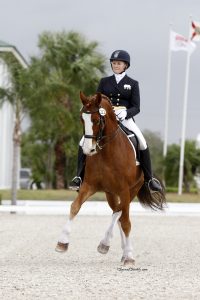 Danny is 8 this year. He's always been wildly talented; I bought him in June of his 6-year-old year, by which time he could do big clean changes, a few half steps and a passagey trot that, while all will be handy one day, I had to basically sit down and take out of him because he'd learned a mechanism that wasn't what I wanted at Grand Prix, one where he pushed his big powerful hind legs out behind and made them slow, instead of really sitting and being snappy. But more importantly, what I loved about him at 6 was that I could take a hold of the reins, clamp my legs on, pester him a bit with a stick, and not get dumped.
Well… mostly not get dumped.
The first time was about the whip. It was early fall of last year, and I'd been spending more time on the canter than on the trot because, at that time, the trot was more developed, and I wanted to make some progress on his weakness. I felt I had, that he'd plateaued a little bit, and I wanted to go back to the trot for a while to feel like I was making progress.
I was playing with the half steps, not even thinking about AND NOW WE PIAFFE but more just that I could compress and expand the trot in a really boring way, and he backed off and kicked out a bit, and I sat down and said hey, c'mon, and he double-barrel kicked out behind, ducked left, and plopped me on the ground.
Read the rest at The Chronicle of the Horse!