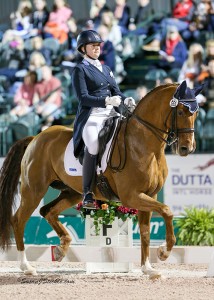 Now that the winter season is nearing its end, I feel like I'm finally ready for it to start.
The best thing for me, as far as motivation and diligence is concerned, is to get my butt kicked. I never fight harder, focus better, or dig in deeper than when I've had my teeth kicked in, and man, did I get my teeth kicked in in January and February. Virtually everything that could go wrong did, including a few 0s and an elimination, a brief financial crisis, a family calamity, an Achilles tendon strain, and my boyfriend breaking up with me.
I cried, I drank a few beers (ok, maybe more than a few), and then I picked myself up off the mat and dug in. I trusted my coach when he changed my training plan. I pushed myself into running and biking farther and farther. I ate a lot of salad. At my last CDI of the season, Ella and I had our best Grand Prix ever—on nearly 66%—and had a totally solid freestyle ride. And after that freestyle, I received one of only 10 invitations to ride at the CDI 4* in Omaha, Nebraska, the test event for next year's World Cup Final.
Read the rest at The Chronicle of the Horse!