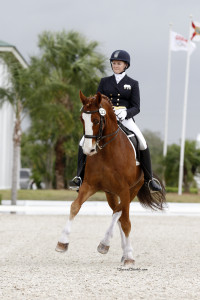 Baby Hurricane will be the eighth horse to enter my life as a youngster and, barring calamity, stay with me until he's developed into whatever he'll finish up as—an FEI horse, we certainly hope. Of those eight, H and four more are still too young to know how good they'll be (Johnny, age 7 and third level-ish; Danny and Dorian, both age 8 and Prix St. Georges-ish; and Beverley Thomas's Fiero, age 9 and solid PSG, schooling I1), one made a fantastic amateur's small tour professor (Fender, now 10), and two became Grand Prix horses (Midge, now 14 and, had he not gotten hurt, could have been a very cool CDI horse; and Ella, 15, and all kinds of fabulous in the big ring, except when she's hindered by yours truly).
Midge came to me at 3; Hurricane, Johnny and Fender at 4; Ella at 5; and Danny, Dorian and Fiero all at 6. I didn't pick Fiero out (but I wish I could have, because he's perfect, and then I'd look very smart), but both he and Dorian were bought for amateurs, so I'm going to take them out of the story here, because they weren't bought with the idea of "maybe I can develop this into something amazing."
But the other six were ones I sought out for myself, and as I'm often asked what I look for when I look for a young horse for myself, here's what I saw in each of them at the time and, where I can, some photos of what they looked like as kids.
Read the rest at The Chronicle of the Horse!