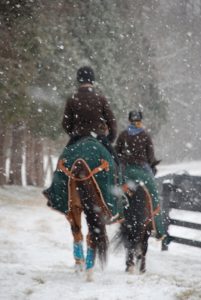 It's the Most Wonderful Time of the Year! The time where you have to figure out how to not go into debt while also showing your love and appreciation for those you care about, and also where here in Virginia it's 40* during the day but 20* at night so the ground is a shoe-sucking quagmire. (Ok, so maybe it's the Second Most Wonderful Time of the Year. Or the Third. Whatever.)
I can't solve the shoe sucking problem, but I can make some recommendations on what the horse professionals in your world would appreciate if you're working on your holiday gift list.
1. New gloves. I can basically guarantee that your trainer and/or her working students needs new gloves. In our line of work even the best of the best don't last all that terribly long, and we try and squeak as much time out of each pair as possible. I ride in Roeckls myself, and if you live in a place that experiences a cold winter, I can't say enough nice things about the Roeckl-Grip Winter glove, which is on sale at Tack of The Day. They're not so bulky that you can't still feel the reins while riding. Love 'em.
2. A MIPS helmet. The science on MIPS technology is amazing – it is HUGELY better at protecting your brain in a fall than even the best of the ASTM approved helmets, and OneK makes one that's not wild expensive (plus it comes with the fun CCS system so you can swap out the colors on the center details and make your hat your own).
3. New boots from Kingsley. Want to splurge on your favorite horse professional? Kingsley boots are my favorite, because they wear like iron, AND you can be as garish (or not) in your footwear choices because there's colors and styles galore, at a range of price points. Plus, hypothetically speaking, playing with the Boot Configurator after a couple of cocktails is a barrel of fun. Not that I would know, of course.
4. Some self care. Book a session to care for your favorite rider (or favorite rider's horse's) body with an expert bodyworker like Meghan Brady, or their brain with an expert professional coach like Jen Verharen. Both of these amazing women keep me going, in more ways than one.
5. A custom saddle plate from Swanky Saddlery. I LOVE my fancy little logo plates, and they set my black saddles apart in a sea of black saddles. And it's something that we professionals would never treat ourselves to.
6. Cash and gift cards are never the wrong answer, and I love shopping small whenever I can. Don't forget that it's possible to get gift cards to your trainer's feed store, which we probably spend more money at than our local tack shop. And most veterinary practices will let you make a payment on your trainer's account as well. And for the working students of the world, think about helping in the direction of the grocery store or gas station, especially in this tricky world we're living in now. They'd be very grateful for the help!