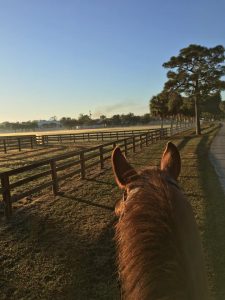 Fall has become wintertime, and wintertime is about to become Florida-time. It's t-minus four days from my own departure, with the horses to follow a few days behind. This year I have a record number going—10—as well as it being my first year at my own farm, or at least at a farm I'm renting the entirety of. I'm a good sharer, but it does sound nice to have the run of the place.
This is, however, the first year I don't really have a big competitive goal, at least the first in a really long time. If 2017 had gone according to plan, Danny would be thinking about his Grand Prix debut this January, and Puck would be schooling the changes. But 2017 did not, under any circumstances, go according to plan. And such is plans with horses: they're to be written in pencil, and should have about 892 contingencies.
That isn't to say I'm not looking forward to going. I have a fantastic group of clients going, all with exciting competitive goals. It's a wonderful group of horses, and that is always great fun. And my own horses are moving forward, if not towards the goals I had in mind, at least off this summer's plateau.
Read the rest at The Chronicle of the Horse!