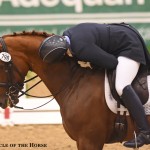 I came home from the National Finals and braced for impact. Two things happen to me every autumn: first, things slow down. People give their horses, and themselves, a break, and it means that I don't teach as much; combine with the holidays, and my whole world hits the brakes.
It's fun for a few days, but then I start to twitch, as idleness does not become me, but I'm so tired that it's sort of frantic, directionless energy. And that's usually when Thing Two happens: I get really, really sick.
But 2015 was different, for whatever reason. Things didn't slow down. I got to teach some clinics in some incredibly cool places, and made wonderful new friends along the way. Thanks to an amazing client, I've got an opportunity to shop for a young horse for us to own together, so I travelled around meeting baby horses. And my clients kept riding, bolstered by a big group that are all in the Prix St. Georges 2016 Or Bust Club, as well as by unusually balmy Virginia winter weather.
Read the rest at The Chronicle of the Horse!