Be a part of the journey up the levels! Lauren and her team of trainers have international level sport in their sights, and there's lots of ways you can come along for the ride.
The Red White & Blue (Ribbon) Club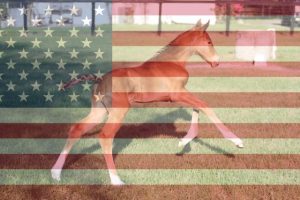 Be a part of the journey from Foal to FEI! Get an exclusive membership in watching Lauren develop an American-bred Dutch Warmblood filly from foal to her future. Membership in the Red White & Blue (Ribbon) Club gets you an all access pass to this little girl's journey under saddle and up the levels. If you like reading Lauren's blog, you'll love this behind-the-scenes peek!
Your annual membership fee gets you all this!
$50: 12 monthly updates in the form of video blogs and newsletters, delivered to your inbox
$200: the above PLUS a quarterly treat – merchandise, special updates, and other goodies!
$500+: the above PLUS an invite to a Meet and Greet cocktail party at Sprieser Sporthorse in the fall. Meet our filly plus Elvis, Puck, Swagger and more!
FAQs:
– Do I own the horse? Am I responsible for any of her expenses? Do I get any of the profit if she sells? Nope all around. Your annual membership fee is just that – the membership in a club of like-minded horse people who want to go on an adventure! You can renew your membership at the end of your year, or not, as you see fit.
– What if she doesn't work out? That'll be a bummer, but your membership content will continue through the year with fun behind the scenes training and lifestyle videos of Lauren and her other horses.
– Tell me more about the filly! She's a 2019 KWPN-NA filly by Vitalis out of Fienna (Sir Sinclair-Paddox). A chestnut with four white socks and a star, she immediately impressed her breeder, my longtime friend Belinda Nairn, with her sweet nature and beautiful type. Her grandmother was also a chromey chestnut Harness type, just like one of Lauren's all time favorite horses, Victorious.
– Tell me more about the plan! Lauren will have the filly raised in a herd until it's time to put her under saddle. She'll be in training with an exceptional young horse starter, and then brought to Sprieser Sporthorse full time in April of her four year old year. Along the way, she may show in-hand or go to Keurings as needed, but certainly the plan would be to try and start her under saddle competition career the Spring/Summer of her four year old year, and then see where her future takes her!
– What sort of goodies can I expect? The newsletter will keep you up to date on the filly's affairs, but since those might not be super interesting in the beginning, there will be lots of other fun things that you won't get from Lauren's blog from The Chronicle of the Horse: video blogs, training tips, early invitations to special events, and more. The Quarterly Swag will include products from Lauren's sponsors, Sprieser Sporthorse merch, and other fun things!
– How do I join? Submit your payment by clicking here, and you'll be automatically added to the club registry!