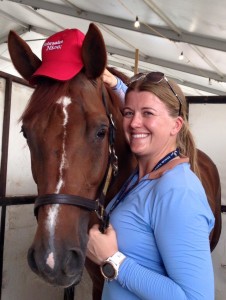 I'd just taken Ella back to the stabling after our last freestyle of Florida 2016 and my phone beeped. It was a message from Thomas Bauer, who is a Big Deal Guy—he's part of show management not only for the Adequan Global Dressage Festival shows, but also organizer for some major European shows, and a member of the FEI Dressage Committee. He says he needs to speak to me.
And I have a middle-school flashback: what have I done? How much trouble am I about to be in?
Trying to keep my panic inside, I head back to the ring, where Thomas is waiting for me. Thomas is tall and German and not smiling. Oh God. Did I forget to fill out some paperwork? Is Ella's passport not up to date? Does he hate my blog?
And he asks me this question: "Have you ever heard of Omaha, Nebraska?"
Read the rest at The Chronicle of the Horse!