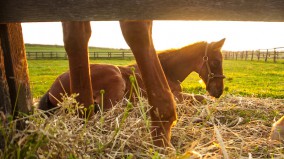 Somewhere in the world, the 2028 Olympic champion is a foal out in a field. He's ewe-necked, sickle-hocked, downhill and shaggy, with a club foot and a chunk of mane missing, because his buddy chewed it off.
Somewhere in the world, there's a young horse that everyone says is too short to make it big. In three years, he'll be jumping the standards, but right now he's fat and short and no one is paying him any mind.
Somewhere in the world there's a 7-year-old who can't turn right, and a 10-year-old who has not shown the ability to put more than two one-tempis together without losing it, and a 14-year-old who hasn't yet reached his peak, and all of them will be at the next Olympic Games.
Read the rest at The Chronicle of the Horse!