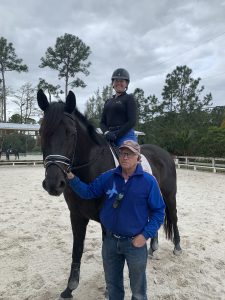 The Dressage Foundation was kind enough to honor me with a Major Lindgren Instructor Education grant to allow me to ride with Olympic bronze medalist and living legend Mike Poulin. I have a fair bit of experience bringing lunatics up the levels, but I don't have a lot of mileage doing it with more reasonable horses, and as I currently have two polite animals in my life—Elvis and Swagger—as well as a bunch of students on young horses that aren't wild things, I was excited to expand my toolbox with Mike this winter, adding new tips and tricks I can use to help my students develop their FEI horses more wisely.
Annoyingly, the schedule this winter has had other plans. Mike's travel schedule seemed to only accommodate weeks that Elvis was at a CDI—not the time to be talking about piaffe strategy, which is my primary focus on him for the year once we're done showing. The handful of other times we've been able to make it work, it's rained. But I've finally gotten in a few lessons, on all of my horses, and I've learned a ton.
Read the rest at The Chronicle of the Horse!