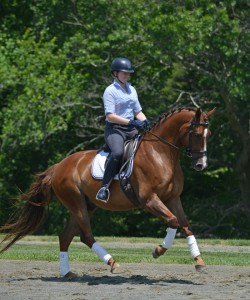 I've made the decision to offer my phenomenal six-year-old, Johnny Road, up for syndication. Johnny's always been one of my favorites, not just because he's got freaky talented legs and a wonderful mind that takes pressure better than any horse I've owned at that age, but because he's my kind of nerdy—he's smart and clever and more than a little obnoxious, and I find that combination tremendously endearing (which probably explains why I'm still single.)
I've owned Johnny two years, since he was four, and at four his job was to go to shows at Training Level until he didn't try and kill me. The first show, he spent a lot of time trying to kill me. The second show, he was a rockstar by Day Three, earning High Score Training Level for the show. And so I checked off that box, took him back home, and let him grow and develop and didn't really freak out about what he was or wasn't doing.
At five, I went to one more show, just to make sure the Dirtbag instinct was still dead. It was. High score First Level of the show. And I kept him home the rest of the year, where he grew almost a hand, sprouted this unreal topline from very little hard work, and proceeded to just generally be a pleasure and not keep me up at night.
Read the rest at The Chronicle of the Horse, and click here for more information on joining the Johnny Road Group!