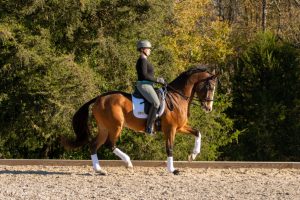 Folks, it's crazy time. Autumn is always a little nuts, but… well, let me show you.
Let us begin in OCTOBER. Activities include the GAIG/USEF Regional Championships (amazing and educational); a clinic at my farm with my fantastic friend and biomechanics expert Suzanne Galdun (amazing); and attending the U.S. Para-Dressage National Championships (educational).
My assistant trainer, who is newly engaged, gives me her notice—a surprise, since we'd originally planned on her departure after Florida— leaving me scrambling. It's OK; I'm at my best with my back against a wall. And sometimes the universe hands you what you need: Three days later I've hired Sam, who's both a beautiful and experienced rider, and while she's never taught before, she's got the right temperament and intellect for the job. And I like teaching, so I'll teach her how to teach.
It remains a good thing I'm at my best with my back against the wall, because I also get fantastically unloaded off a young horse and earn myself my first concussion. Naturally, I do not tell anyone and just casually teach in sunglasses for the next few days. The timing is good because everyone hits pause on their lessons this time of year. I'm fine. Everything's fine.
Read the rest at The Chronicle of the Horse!