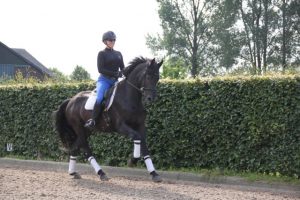 I was a working student for Carol Lavell when I graduated from college. For those who don't know Carol, not only is she a member of that very elite club of American riders who've placed fourth individually at the Olympic Games, but she also studied chemistry at the Massachusetts Institute of Technology. To say that Carol is brilliant would be a colossal understatement.
That brilliance carries over into her teaching and in the way she thinks about riding. I remember feeling so overwhelmed in my lessons with her back then—she sees everything and asks for a reason behind every aid I apply. Why did I take back on the left rein just there? What effect should it have had? Did it have that effect? Now what are you going to do about it? She operates at an incredible level.
At the time that level of instruction was wasted on me. I couldn't appreciate that level of precision, didn't yet realize the level of finesse required to ride at the international Grand Prix level. I've trained and shown several horses up the levels since, and each one has made me more subtle, more sophisticated in my approach.
Read the rest at The Chronicle of the Horse!