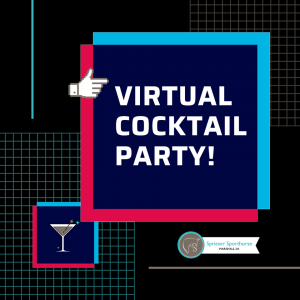 If you don't follow Lauren Sprieser on Facebook, you might have missed the Virtual Cocktail Party series. Sponsored by the Sprieser Sporthorse Elite Club, Lauren is hosting three FREE educational "parties" via Zoom, in these times of social distancing, to keep learning and keep having fun while we're safe at home.
We've had some amazing guests, and will continue to do so for weeks to come. All meetings are at 7p EST (4p PST). Here's the complete schedule of events:
PAST PARTIES, recorded and available for your listening pleasure, to members of the Sprieser Sporthorse Elite Club:
– Heather Richards, FEI Amateur with horses at home
– Jen Verharen, professional coach, on making fear a superpower
– Dr. Chad Davis DVM, on complementary medicine for horses
– Dr. Jenny Susser, sports psychologist, on goal setting
– Laura Crump Anderson, personal trainer & yoga instructor
– Jodie Kelly & Martin Kuhn, Grand Prix riders, on Young Riders
– The Horse Husbands
– Lauren Chumley on buying & selling horses
– Laura Romfh of Romfh Equestrian Apparel on equine fashion
– Olivia Lagoy-Weltz, international dressage rider, on riding the wingnut
– Lendon Gray, Olympian and Olympic coach, on teaching youth riders
Sign up for each meeting FREE at Strider, and see you there!