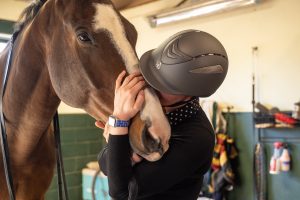 Are you that person who alphabetizes their spice rack? Love a good label maker? And want to apply those skills to a life with fancy prance dressage ponies and the hilarious nerds who care for them? We're looking for a working student intern to join our team at Sprieser Sporthorse, Marshall VA and Loxahatchee FL.
Our interns are PAID to RIDE, groom, tack, muck, turn in/out, feed, and do other farm chores at our beautiful Virginia facility, with awesome horses, fabulous humans, and many, many excellent snacks. Our team works hard, plays hard, and loves to learn and love our animals together. We have a team approach to the day to day runnings of a top dressage barn, developing horses from green to Grand Prix, and teaching amateurs, youth and professionals alike from the grassroots to the CDI ring.
We show, a lot. You'll get to learn the ropes of showing with a top shelf team, both nationally and internationally. CDIs, CPEDIs, National Championships; that's what we do (in addition to labelling things, ALWAYS replacing an empty toilet paper roll, and reveling in a good pun.) Whenever possible we'll find horses for you to show – in the last 15 years we've made MANY USDF Bronze and Silver Medalists out of our working students, on both their own and on client-owned horses.
We bring in top shelf clinicians to complement the instruction provided by Head Trainer Lauren Sprieser, USDF Gold Medalist, and Sam Laurel, USDF Bronze Medalist and eventer, both of whom have a long track record of turning rogues into rockstars. And we'll teach you how we do it. Former working student interns have gone onto be trainers within our own program and out in the world. Our connections throughout the horse world are vast and excellent, and we'll make sure that wherever you go from us is a great gig. And our name on your resume is a golden ticket to wherever you want to be.
Applicants must be team oriented self-starters who use their words, play well with others, and take pride in all the halters being hung up the same way. Dressage experience not required, but a strong work ethic and an open mind are. Housing and salary provided, with the possibility of a full training stall for the right candidate. Must be able to work in the US without sponsorship. Ideally looking for someone who can stay beyond just the summer, but we'll consider all options. No pets. Must be able to put your phone down. Must be the kind of person who replaces the &*@#$! toilet paper roll. But don't worry – we'll provide the label maker. Bonus points to those with young horse experience because OH MY so many babies right now.
Send your resume and at least one funny joke and/or pun to lauren@spriesersporthorse.com.