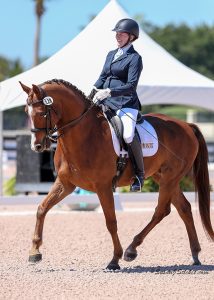 Third Level, Test 3. Ring 2 at the Adequan Global Dressage Festival.
To confirm that the horse demonstrates correct basics, and having begun to develop an uphill balance at Second Level, now demonstrates increased engagement, especially in—
JOHNNY ROAD: HI! Hi hi hi! Omg you guys, we're at a horse show!! It's been a few years since I went to a horse show because there was a period of time in which I thought grabbing the bit and running with my head in the air was an appropriate response to being asked for a flying change, and also there was a while where I thought going sideways was pretty stupid. But now I'm a big boy and I'm here and I'm braided and it is SO EXCITING and oh, hey Mom! That was the bell oh boy oh boy oh boy—
Read the rest at The Chronicle of the Horse!