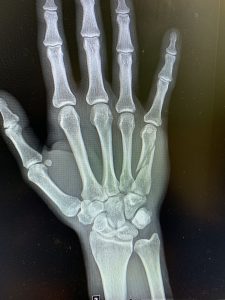 I had this plan.
My friend and coach Ali Brock was scheduled to come to Aleco and Sandra Bravo-Greenberg's gorgeous Rutledge Farm, just a short hike away in Middleburg, Virginia, for a clinic as part of their Rutledge Farm Sessions clinic series. The clinic was not only a chance for me to get some lessons on Elvis, who is 2.5 weeks out from the U.S. Dressage Finals, but also an opportunity to get some nice press coverage of my wonderful horse who is, ahem, owned by a syndicate with shares still available.
And then, as Ali would be stopping at her Virginia base for a few days before returning to Florida, I thought I'd seize the moment and bring Puck down to her, to have lessons in the privacy of her own farm on my horse who's not always ready for public consumption.
Swell plan, right? I even had a blog in mind touching on the differences between riding in a public symposium versus a lesson in private.
What I didn't plan for was the broken hand.
Read the rest at The Chronicle of the Horse!