'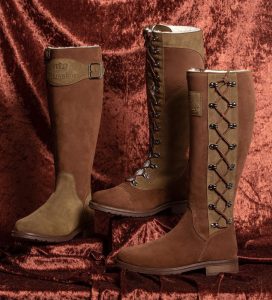 Tis the season – the season where many people are thinking about holiday gifts for their dedicated barn staff, horsey caretakers, and equine enthusiasts. Here are a few great gifts for the horse person in your life – professionals, amateurs, and youth riders alike.
1. A Ride iQ membership. Ride iQ is a revolutionary app that provides audio lessons on a huge range of subjects – dressage, jump work, ground work, sports psychology for riders, fitness, and more. Members get real-time instruction from some of the best in the business (including me!), plus access to an awesome Facebook group for members, some terrific podcasts, and more.
2. Fir-Tech goodies for horses and riders. Fir-Tech is a ceramic fiber from Catago, and is of similar quality to other similar products from other brands, but at way better pricing. I particularly love Elvis's Stable Boots at horse shows when he's not able to get the same amount of turnout as he does at home, and the Neck Brace for me. It's great for when I'm a little stiff… which never happens, obviously, as a professional rider…
3. Kingsley Boots. Kingsley came to me four years ago and wanted me to try their boots. I'd been a longtime proponent of another prominent German riding boot, but the Kingsleys had me at hello, with their stiff exterior but remarkably short break-in time, their custom fit, and their many many fun options (even though I'm their most boring rider and my boots are rarely all that exciting). I just retired my pair of everyday boots after FOUR YEARS – an incredible run for a pro! I think everything Kingsley makes is wonderful, but I'm a huge fan of their fleece lining, which they can put into any of their boots, including these stunning work boots.
4. Roeckl Gloves. I live in Roeckl Gloves year-round, because they're hard to kill… and lord knows I try. Much of the year I'm in the Madrid, but my winter favorite is the Winter Roeckl Grip. They're warm enough for winter riding but thin enough that I'm not burdened by bulk.
5. The Mantra bangle. Everything from Swanky Saddle is gorgeous, but I particularly love these Mantra Bangles, especially the GRIT one – my fav, and based on my cool tattoo! And they're on clearance right now, so go get 'em.
6. The Neue Schule Turtle Top Snaffle. What I really want everyone to do is bring in my friend Stephanie Brown Beamer for a bit fitting, but she's one person, and she can't be everywhere. But riding in a quality bit that fits well is a great start, and this is my workhorse bit. Almost everything in my life is going in a version of it, so it's as close to a sure thing as exists. By the way, you're probably riding in a bit that's too bit as well – even Rowan, the 100% Irish Draught in my life, goes in a M. You just do not need a 6″ bit, friends, it's not possible.
7. A Pivo. I first bought a Pivo to record my rides for my own review, and it gets a solid B at that job – easy set up, holds a charge well, but every now and then does this Exorcist thing where it spins around and loses me. But the real superpower of the Pivo is its virtual lesson capacity, because the instructor can take over the robot. It's so easy (I've been meaning to make a video for social media on how I do it, and I've just been slammed; hopefully this will light a fire under my ass to get it done), the lesson hosting system is free to use, and they're on sale for 50% off right now.
8. The Pro Lite Multi Riser half pad. Why not wear a shock absorbing saddle pad when you ride, and protect your horse's back? This is my favorite because the pockets for shims allow me to get creative and extend the fit of my saddles as my young horses develop and change. Every horse, every day!
9. OneK Avance with MIPS. Do me a favor and check the date on your helmet. If it's older than 3 years, time to get a new one. If you don't know how old it is, time to get a new one. If you've bonked your head in it, it's REALLY time to get a new one. And frankly, if it's not a MIPS, it's time to get a new one. MIPS technology is really worth the investment, because it's so superior in its protection to a traditional ASTM hat, and the OneKs are such great bang for your buck. I like the Avance for its sun protection, and you can also customize your helmet with some great color pieces.
10. A gift card for a car detailing. Horse girl cars are… something else. A nice detailing is such an incredible gift, and it's something certainly we horse pros never do for ourselves!