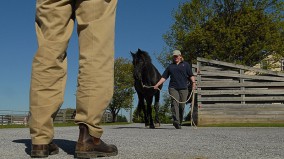 I hate the process of buying and selling horses. It's like speed dating but with a marriage proposal at the end; every horse is imperfect in some way; and even when done perfectly right, with adequate trial time, complete honesty on behalf of both buyer and seller and everything above board, you're still buying a sentient being who is susceptible to change.
But it's an inevitability. While I don't take horses in to sell, I sometimes need to sell my own; I get my horses young and take them as far as they can go, or as far as I can justify taking them before rededicating my limited resources to the next one. My clients outgrow horses, and need new ones. It's the nature of the business that, even when sales isn't your business, you're going to have to do a little bit of buying and selling.
When I'm selling a horse, the first thing I do is a pretty comprehensive veterinary exam. Depending on the price, age and level of the horse I'll have x-rays taken in advance, but no matter what I have a basic physical exam done, including flexions of all the major joints. You can find something physically wrong with every horse, and training leaves evidence.
As such, whether I'm selling or helping a client buy something, I make sure that I consider any veterinary findings in context. When Ella was on the market, I can't tell you the number of people who were shocked by the things I did for her prophylactically—joint injections, Adequan and Legend before there was a problem, rather than after. So many said something along the lines of, "Well, I'm looking for a confirmed Grand Prix horse with an extensive show record that doesn't need maintenance." Good luck and Godspeed to them! And sure enough, the veterinarian who preformed her pre-purchase exam said that not only did Ella have phenomenal X-rays for a 16-year-old horse; she had phenomenal X-rays for an 8-year-old horse.
Read the rest at The Chronicle of the Horse!