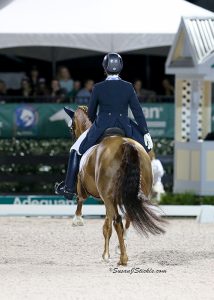 I was making my list of goals for 2017, and on the list (along with "eat like an adult," "sleep past 4 am" and "take a cooking class to improve my knife skills") is to get a 7 or better on the canter half pass zig zag in a CDI Grand Prix. I understand the movement, I teach others how to ride the movement… and I myself, on Ella, can't seem to ride the movement in the ring. I get the count right, I get 6 or 6.5, and it's fine, it just can be so much better, and it really needs to be better, to get the scores I want.
I get a lesson on Ella almost every day, and I mentioned this to Michael in the middle of last week. He told me to go show him what I was doing. I did. And then he said, "You're straightening on step 3, and that's too early. It's taking too long. Don't straighten until step 5. Now go do it again."
So I did. And it was lovely. And at the end, I stopped, dropped the reins, threw up my hands, and cried out: "I am SO DUMB!"
Read the rest at The Chronicle of the Horse!