1992 TRAKEHNER GELDING, MAIZAUBER-BELLE PETITE/HABICHT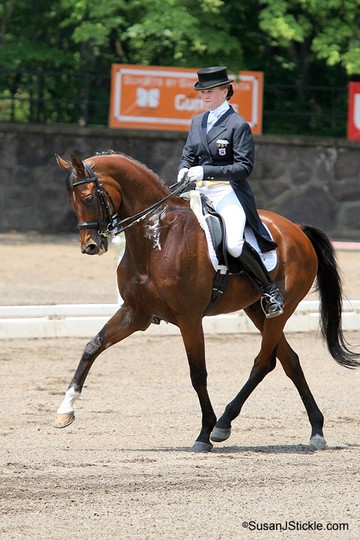 "Billy" was a son of E.H. Maizauber, a grandson of the great Mahagoni, and out of the Habicht mare Belle Petite. Bred by Trakehnergestüt Gorlo, Billy came to the US in January, 2003; since, they represented the US at two North American Young Rider Championships in 2003 and 2004, won their first Grand Prix while still in the Young Rider ranks, and placed third at the 2006 "Brentina Cup" National Young Adult Championships.
Lauren and Billy exhibited for Dressage4Kids, and for the American Trakehner Association, always to rave reviews. Their partnership earned them four Regional titles, and three national breed Championships – Young Rider Champions in 2005, and both Intermediare II and Grand Prix Champions in 2006.
But Billy didn't stop there. He partnered with a young student of Lauren's to take her to her USDF Bronze and Silver Medals, the overall title at Lendon's Youth Dressage Festival, the USDF Finals in the Second Level Open Freestyle division, the USEF National Junior Championships and the NAJYRC.
Billy retired sound at 23, and lived out his days in a field of other FEI dressage and jumping horses, swapping stories. He passed away just shy of his 28th birthday.