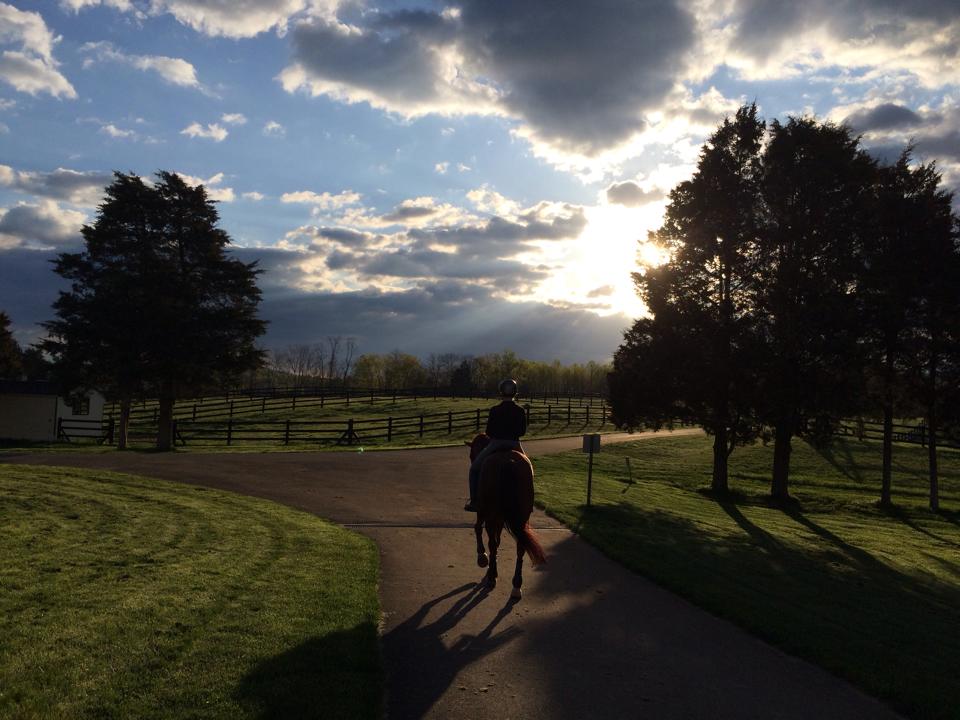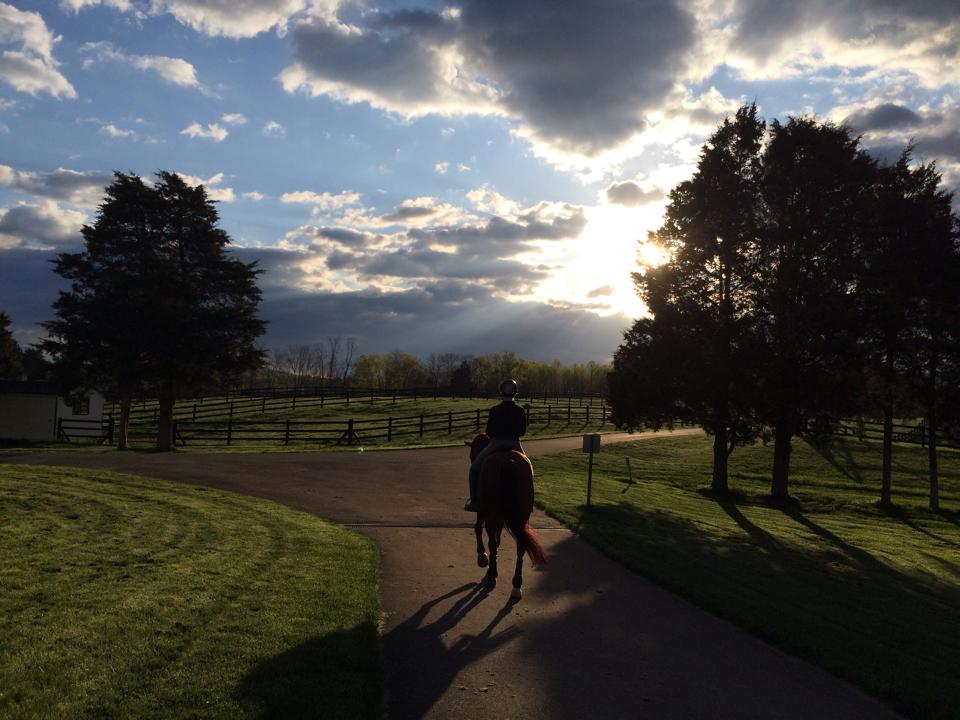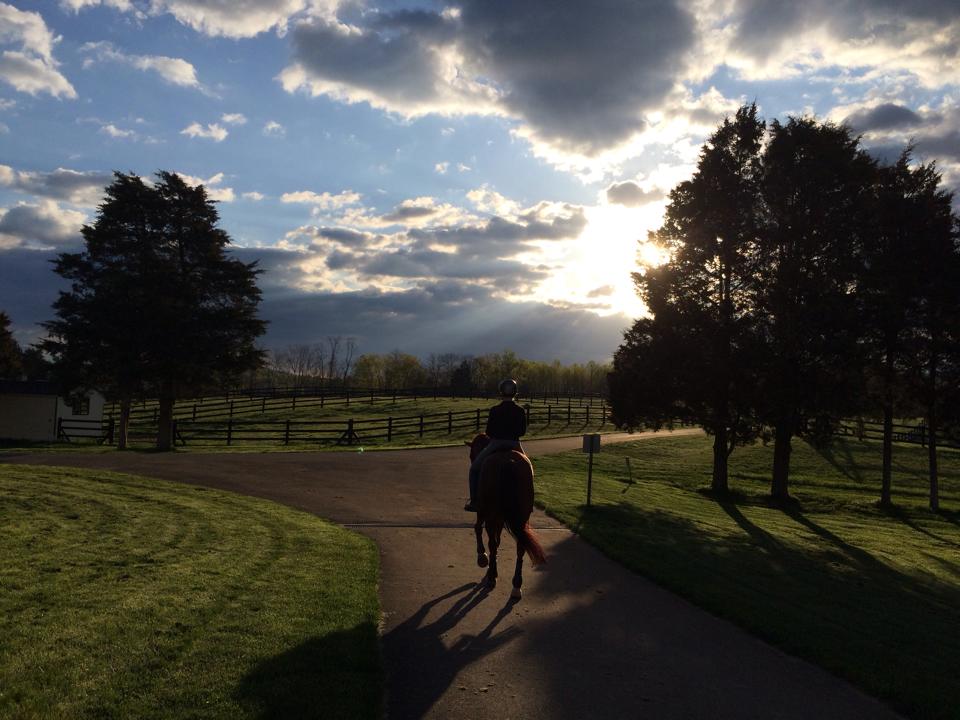 A month home from Florida and I'm finally feeling settled in. That month wasn't exactly quiet—a show, the World Cup Final, a clinic with Michael, a Pony Club rating, and moving out of my house in town and back to the farm—and I just felt very scattered. Being in one place for a while sounds pretty great.
Of course, that's not exactly what's going to happen. We have back-to-back shows the first two weekends of May (though, mercifully, with different sets of horses), but then the rest of the month to keep working away at home, including our first-ever Adult Dressage Camp (which was so popular we expanded it to a second weekend, and still have a wait list—wahoo!)
But I'm finally getting into a rhythm and a plan with all of the horses I ride. The babies are all pretty easy, as they've all pretty much plateaued from their big Florida push.
Danny, who's had his changes for as long as I've known him—though rideability of them (and really everything else) has been the question—made a BIG burst of improvement right at the end of the season, and there he's stayed for the last month. I continue to work on building his topline; while he's far from a puny weakling, he is also capable of way more work than you'd think by looking at him, which means he fatigues quickly, and the last thing I want is for him to get hurt by out-fancying his muscles. So we do lots of incredibly-boring muscle building work—transitions, both between and within gaits, and very simple half-pass lines. And we wait for the next level of work to find us.
Johnny struggled the most with the changes; whenever I try a baby horse out, I always hit a diagonal each way and ask for a change, just to see what they volunteer from nature. And Johnny volunteered not much of anything. This didn't scare me; I am, if you all will indulge me a little ego, pretty good at teaching the changes, and he doesn't have any problem learning or being told what to do, so he'll get them.
In his two years with me they've gone from a whole lotta nuthin' to a very late leapy change to a one-stride-late change with no leaping, so he's on his way. I've got some really good tools to address them (which I just learned you can read about in the forthcoming July issue of Practical Horseman, when my article on addressing late changes will come out! Stay tuned!), and so I shall, until they are done, whenever that is.
Dorian made big change progress in Florida, and we came home with one super solid and rideable one, and one that was persistently not only one stride late behind, but also a little launchy. Dorian is about the sweetest creature on the planet, but when he has a teenage moment, it's a bit spectacular—never EVER life-threatening or malicious in the slightest, but he is a very big, very good athlete.
The secret to that change, which has, over the last month, become about 90% solid, is a bit like the secret to everything Danny does—dumb it down, make it boring. They're both REALLY impressive-moving horses, which is cool, as long as it's yours; when it's not yours, it's high-power in every direction, which is hard to contain.
Riding Dorian in a really simple, almost a little earthbound, canter has taken the drama out of that change. And like any big, fancy-moving horse, I know I'll always be able to turn up the power when he's ready to do so; I can take it for granted just a bit.
None of the development "issues" (that word again! I hate it!) these guys are facing scare me in the slightest—they're all world-class good horses, who are all still very young. I'm in no hurry.
Fiero, too, is well ahead of "The Curve," if there is such a thing. At 8 years old he's clocking off the Prix St. Georges work, and only missing strength and power, which no one can rush. Virginia spring weather is spectacular, and I look forward to working him more outside, on our gorgeous hills (though the first time we did this, he cheerfully clocked off pirouette after pirouette both up and down hills for quite a while with a big smile on his face, and then could barely get out of bed the next day. Oops. Too much fun?)
Fender will also be going to hill-work boot camp, though he packed on a ton of muscle in Florida just doing his work—he looks absolutely amazing. He's the one I have with me at this weekend's show, where we did a more-power-than-balance first pass at the Intermediaire I, including a very cheerful line of two-tempis that he mistook for a slalom ski course. Whoops.
I can't get over the dramatic improvement to his maturity, particularly in the last couple of months. Midgey did the exact same thing when he turned 9, and I imagine it's a bit like the junior year of college. You wake up one morning and go, oh crap—the beer I've been drinking is giving me a potbelly, I'm 18 months away from having to be a functional adult, and everything my parents have been trying to tell me for the last 20 years of my life that I thought was all nonsense is all totally true. I'd better get it together! And Midgey did, and Fender did too, and it's kind of incredible—it was like an instant change. I love it!
Last but not least, my wonderful Ella girl. My Grand Prix skills are WAY rusty, which Ella has been very sweetly and politely pointing out to be every day. Riding her is so unlike riding everything else I ride, because she is TRAINED, and I have to ride her like a rider, instead of a trainer. This is unbelievably hard for me.
Not only have I been exclusively training for the last two years, but I also ride one horse like her, instead of the six or seven others I ride on a regular basis who are all in need of my baby-horse-management skills. Fortunately, I've got an awesome team who's been videoing me, so I can sit back and watch at the end of the day (which involves lots of angry shouts of "DAMNIT WOMAN SHORTEN YOUR &*#$*! REINS!!!" from my office, which my wonderful employees have learned to ignore.)
I've gotten most of the kinks out of most of the things, with that darned passage still the last hold out—Ella makes it so easy for me to ride the big open floaty one, instead of the short high crisp one, and it's the latter that gives me the transition to piaffe, whereas the former gives me zilch. I'll figure it out. Until I do, should you pass by my arena in the mornings, you'll hear me doing a lot of yelling at myself, which Ella, too, has graciously learned to ignore.
Lauren