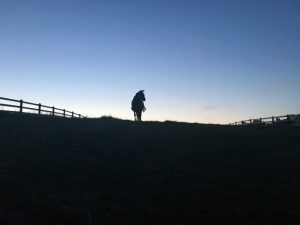 TUESDAY
Elvis, 6:30 a.m.: Sigh. Another week of excellence. Lauren arrives around 6:15 every morning, gets her things organized, and then grabs me. Obviously she starts with me because she likes to start her day on a high note with the Greatest Horse in the Universe.
Today, Lauren makes me loose in my back and sharp to her leg and hand. Tuesdays I always feel a little asleep at the switch—what can I say, I like my Monday day off—and I like to pretend like I'm untrained, just to keep her on her toes.
Puck, 7:15 a.m.: Oh boy, oh boy, oh boy, it's Tuesday!! Another great week of adventure!! Mom always rides Elvis first, which is OK, because I like everyone. But then she rides ME, and it's so great because it's nice to feel like one of the big boys.
There was a period of time where Mom rode me last. She said it was because she had to talk herself into it. I don't know what that means! But here we are, together, my favorite person and me. I'm pretty much the same every day, so Mom will probably do some work on bending and canter work today.
Read the rest at The Chronicle of the Horse!