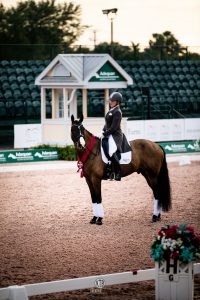 Huzzah! I'm qualified for the U.S. Dressage Festival of Champions. I'll ride The Elvis Syndicate's wonderful Guernsey Elvis in the Developing Grand Prix Championship, for 8- to 10-year-old horses at the Grand Prix level. It's a big deal, and it was my big goal for the year. Mission: accomplished.
But now that I'm qualified, I have to, you know, go.
I'm in the middle of a four-week gap between my last outing and the championships, and I'm making the most of that time to get Elvis and I as ready as possible. He had a little downtime after that show in July, the last in a long slog of competitions. I've spent this entire spring and summer addressing his fitness. As I've mentioned before, Elvis isn't a super hot horse by nature, so I've needed to make a concentrated effort to increase his conditioning. By the time we leave for the Festival of Champions, being held Aug. 24-29 at Lamplight Equestrian Center in Wayne, Illinois, he'll be walking five days a week for north of 40 minutes, up and down my Virginia hills, in addition to his daily dressage work.
But there's more than just dressage, and even more than just fitness, involved in successfully getting down centerline at a big show. Here's what I'm up to this month.
Read the rest at The Chronicle of the Horse!